When you're looking for a birthday party place in Klamath Falls…Epicenter is your party headquarters!
Kid's Birthday Parties at home can be a lot of work, not mention the clean up afterwards.  So whether you are planning a birthday party for kids, teens, or adults, let us do the work so you can relax and enjoy the party.
Check out our Party Packages, then let us take the hassle out of your special day!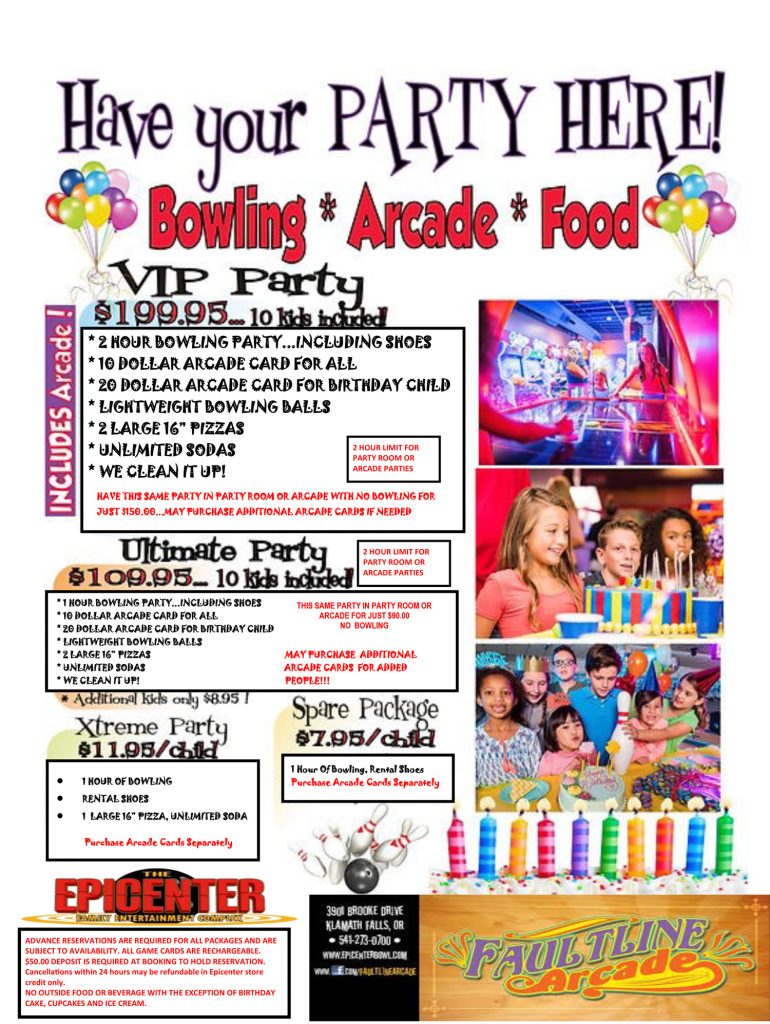 MAKE YOU RESERVATIONS TODAY!*
Purchase additional food items at menu prices.  Game cards in $5 increments.
Advanced Reservation is required for all packages and subject to availability.  All Game Cards are reloadable, $50 deposit required at time of reservation to book party.  Cancellations within 24 hours may be refunded in Epicenter Credit only!
No outside food or drink with exception for Birthday Cake, Cupcakes and Ice Cream.
Tips for a great kid's birthday party!
Q: What will the parents need to do?
A: As little or much as you like. Our team at The Epicenter is here to make sure your special day is truly special!
Q: What about shoes and bowling balls?
A: Shoe rental & house bowling balls are included in your party package. We have lightweight balls and shoes to fit everyone.
Q: What should we bring?
A: Bring a birthday cake (and a smile) and we will take it from there. Oh, make sure your phone is charged up so you can grab lots of pictures for sharing on social media!
Q: Will little kids be able to knock down pins?
A: YES! At The Epicenter we have bumpers to keep the ball on the lane so everyone will have FUN!
Are you ready to host your child's best birthday party ever?